---
| HOME | Training Log | Trifuel Forum | Ironman Canada | Vernon KOS Triathlon | Where I lIve | Understanding | Mental Images | 2010 Calendar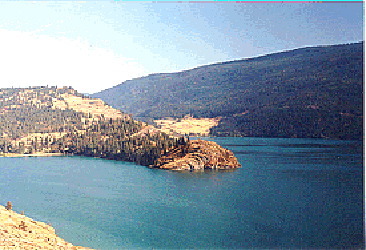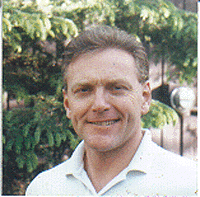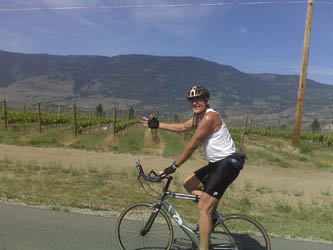 Where I live & Train
I live in the Okanagan Valley, British Columbia, Canada. It lies 350kms east-north-east of Vancouver and extends from the USA border at Osoyoos north 200kms to Sicamous where it joins the trans-Canada highway, HWY #1. Map
I live and breathe triathlon and enter Ironman Canada annually (since 2003). Although the lakes here are too cold for more than a dip from October to June, for four months they are beautiful for swim training. Penticton, Kelowna, Rutland and Vernon have fine 25m pools to use all year long. The roads here are generally well-paved with decent shoulders throughout, safe for the cyclist with confidence and average bike-handling skills. There are also abundant off-road riding and running places, Provincila Parks and Crown land, Forestry access roads which are excellent for running or mountain biking. I am able to commute home to office 9 months of the year by bike, the rest being too snow cluttered to be safe or comfortable.
There are triathlon and running clubs in each city and races monthly during the season, Sprints, Olympic and Half-iron distance races, and at the end of August, Ironman Canada Triathlon in Penticton, one of the oldest and best-loved races in the world. Of iron distance bike courses, for scenic grandeur and challenge merit, it has few peers and no betters. A single 180km loop with an out and back at the special needs station at 120kms, it traverses a range of hills twice and runs through two magnificent valleys alongside picturesque lakes and rivers. Wildlofe is abundant here and the hills are sere and covered with wineries and forest.
I make my home at the north end of the Okanagan Valley in Vernon which is known as the TriLakes community surrounded as it is by Swan Lake, Kalamalka Lake and Okanagan Lake. The Ironman swim takes place at the sothern end of Okanagan Lake, 115kms from Vernon. It's a long lake, with Kelowna in the middle.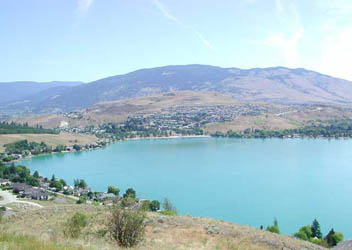 Kalamalka Lake (Kal Lake)

Kal Lake Provincial Park Running / Bike Trails

Cozens Bay, Kal Lake Provincial Park, nr. Vernon, swimming June-Sept.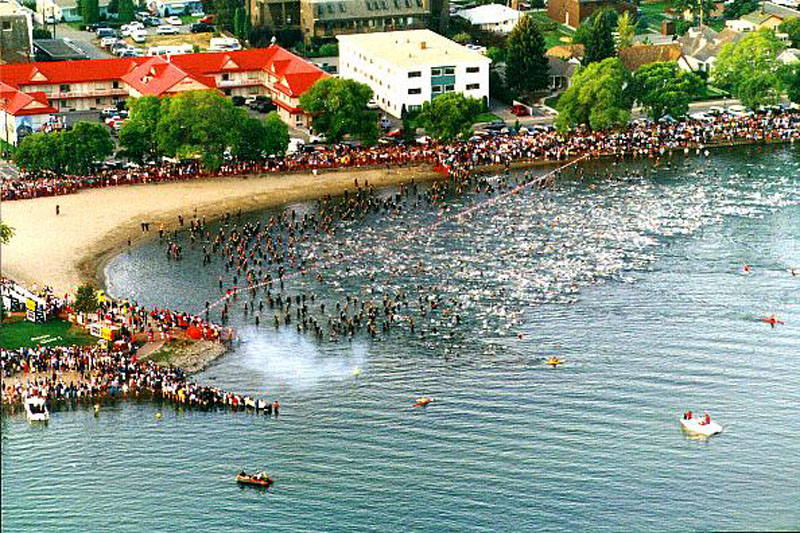 Ironman Canada 1998, Penticton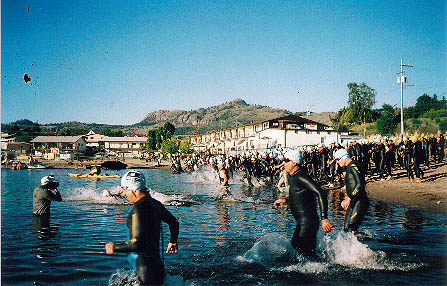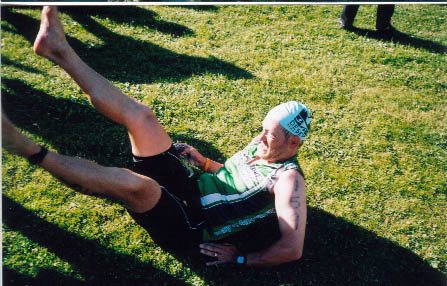 Desert Half Ironman at Osoyoos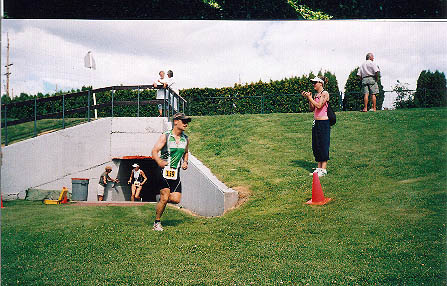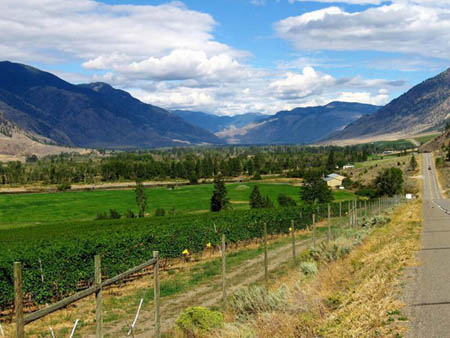 Desert Half Ironman at Osoyoos (r) Rollers to Cawston, IMC course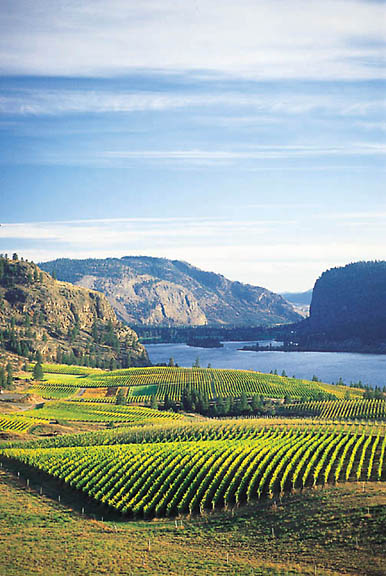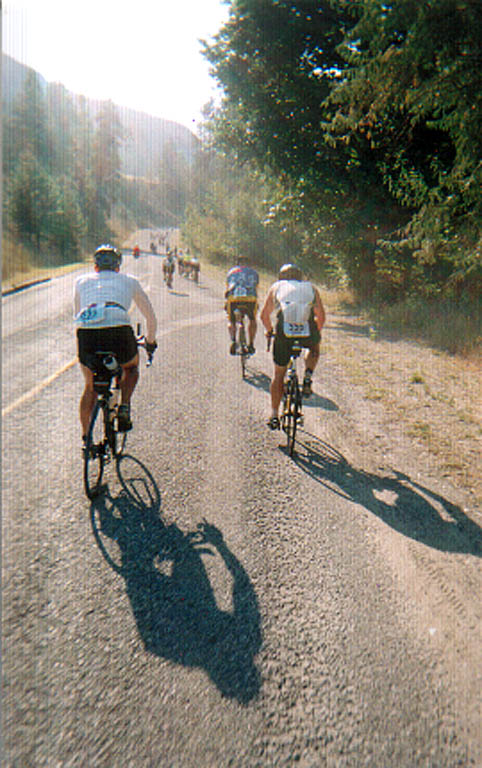 IMC course: #1 Vaseux Lake #2 Maclean Creek climb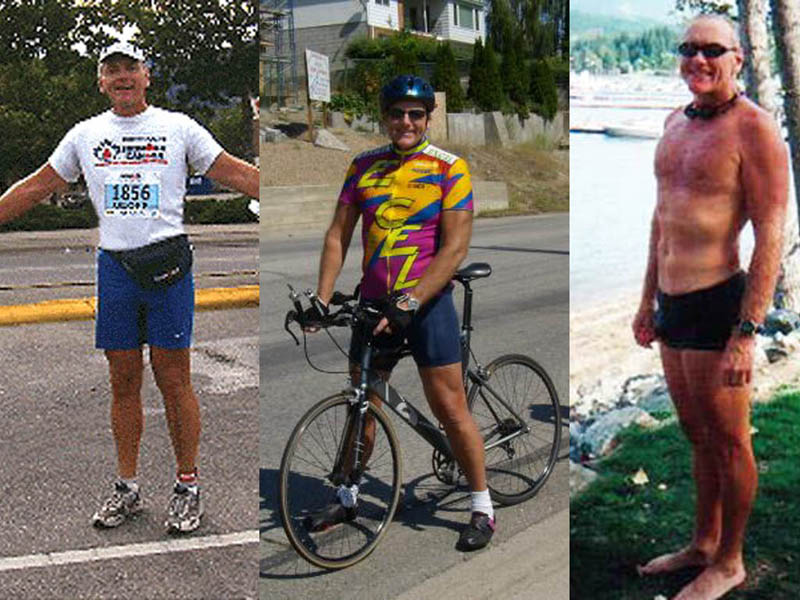 Prince of Clydes, triathlete